Ashley Bond, Staff Reporter

November 27, 2014
Black Friday shopping has become the epitome of what's wrong with American families today. On Thanksgiving Day, families have lost the tradition of taking six hours to roast a turkey, while simultaneously drinking sparkling cider and reliving that time when Uncle Jimmy spilt the green...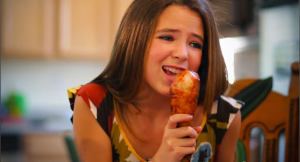 Kaitlyn Miller, Managing Editor

November 16, 2012
Oh YouTube.  We love it so much.  We love its free music videos, its pirated movies, and, of course, its ability to make the next generation of singers. Many stars have risen from YouTube, such as Justin Bieber, Carly Rae Jepsen, and now, apparently, the new Rebecca Black: Nicole Westbrook. That's...