Escape from the Taliban
Freshman Sara Frotan fled Afghanistan along with U.S. troops.
"There was a shiver up and down, up and down. I couldn't feel my legs. I couldn't feel my arms, and I just said, 'Mom let's go home.'"
Fourteen-year-old freshman Sara Frotan and her mother, Karima Frotan, were roaming through the marketplace in Kabul when the first shots of the Taliban takeover rang through the capital. Frotan and her family faced the challenge of escaping just days before all US troops evacuated, surrendering the nation to the Taliban, an extremist Islamic organization.
Frotan, originally from Kabul, Afghanistan, has now been back in the U.S. for three months. She described returning as a "dream;" however, her nightmarish experiences are still with her.  
When she was 3 years old, Frotan's family moved to California, where her family became U.S. citizens. Her father, Kabir Frotan, is a linguist and cultural advisor with the military. He began the job in 2005 and has been working to try and wipe out the al-Qaeda terrorist organization and Taliban insurgents. 
Since relocating to the United States, Frotan has moved to Virginia and back to California twice, settling in Charlottesville in 2019.
In the fall of 2020, Frotan's family of six planned to go visit their grandparents in Kabul for three months; however, the coronavirus pandemic caused a change in plans. 
COVID-19 was more contained in Afghanistan compared to the United States and the Frotans decided to remain with family in Afghanistan for an extended 11 months to wait out the pandemic. 
The family rented an apartment in downtown Kabul where she was able to do virtual school with her ACPS teachers remotely. 
Kabul is 8 hours and 30 minutes ahead of Virginia, so Frotan signed onto her classes at 6pm and stayed up doing homework until 2 or 3 in the morning. "Wi-Fi is best at night in Afghanistan," Frotan said. There was also no electricity during the days, so Frotan could only use her computer at night.
Frotan's family lived close to her grandparents, cousins, aunts, and uncles who she said: "were the best part of being in Afghanistan."
"It was the best year I ever had," she said. Frotan loved being with her family and spending late nights with her cousins– sneaking out around the city. "Us girls had so much fun," Frotan said, "I miss moments like that." 
In late July a family friend informed them that the Taliban was gaining power throughout the country. They were aware of other regions falling to the extremest organization but thought that Kabul, the capital, was far from any danger.
Frotan described Kabul as "the new generation of Afghanistan," with more rights for women, more entertainment, and more education. The family felt safe in the capital, but had a plan to leave in late August, before U.S. troops were scheduled to withdraw on Sept. 22.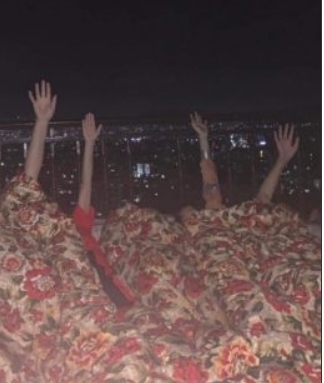 However, on Aug. 15, more than two weeks before the family was scheduled to leave, the Taliban began capturing Kabul. This was exceptionally faster than U.S. intelligence or Kabul residents had predicted.
Frotan and her mother were walking through the marketplace on that August day when they noticed doors were shutting and shop windows were being barricaded.
Shopkeepers and men on the street were yelling "Sisters go home. Sisters stay safe." Frotan described the moment as, "the scariest feeling ever." 
Women in public not wearing burqas or without a male chaperone were now at risk of being shot and killed. Frotan was worried about her mother and other family members being hurt as Taliban members began shooting into the air. 
"People were screaming and stealing clothing out of stores to cover themselves on the street," Frotan said. She remembers the fear building up as her mother frantically flagged down taxis to take them home. 
"Everyone was too afraid to drive in the direction the Taliban was coming from, but one kind man saw us in distress and offered his cab."
"Whatever happens, I am going to make sure you guys arrive safely home to your family," the taxi driver told them. Frotan recalled people in the street criticizing him for risking his life for strangers, but he stayed true to his promise and took them all the way home.
"
People were screaming and stealing clothing out of stores to cover themselves on the street."
— Sara Frotan
Once she reached her apartment, Frotan's neighbors assisted her and her sister with covering themselves, using full blue burqas, and gathering a few belongings to hurriedly escape the country.
Frotan's mother was trying to get in contact with her father who was at the U.S. base. Nothing had gone as planned and they had to rush to the military base to meet him.
Frotan and her family jumped into a car belonging to her uncles, who, "escorted us all the way to the base and said that the Taliban would have to kill them before they could get to us," she said. Frotan and her mom hid everyone's passports under their burqas for the trip.
Out of the car windows, Frotan could see members of the Taliban patrolling the streets. She was transfixed by their "long beards and big guns." 
"It was just horrible. They would shoot into the air just to make us think we were going to die."
The Frotans were unable to safely reach the military base, so they altered their location to her uncle's house where they hid in the basement, listening frightened to the shooting and terror just past the walls. 
While in the basement, Frotan fainted for the first time in her life– bruising her back and increasing her growing terror of the situation.
The family was in extra danger because they were connected to America. While in Afghanistan, even before the Taliban seized the country, Frotan had needed to monitor her language, avoiding English at all times and speaking only in Farsi.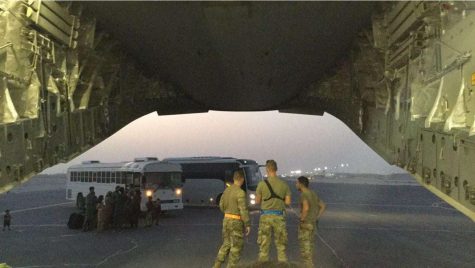 "Had someone heard me speak in English, I could have been kidnapped and held for ransom, killed, and my entire family compromised," Frotan said.
Eventually, after a few hours of hiding in the basement, the family risked the streets again and was able to reach her father at the military base.
The Frotans were at the base for four days waiting to board a flight. On Aug. 19 they found room on a plane headed for Qatar.
"Qatar was the worst," Frotan recalled. Authorities forced the passengers to remain on the crowded plane for a little over seven hours before herding them out under the shade of the plane's wing in the112 degree heat. 
"The wind was so hot it was burning our skin, babies were vomiting, blood was pouring out of people's noses and mouths, everyone around me was fainting." 
Frotan and the other passengers poured what little water they had all over themselves to try and combat the heat. "The water felt like it was boiling," she said, "but we were just trying to stay cool."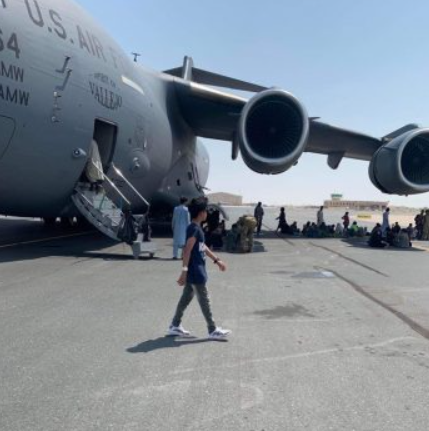 When the evacuees were led back on the plane, it felt like there was very little oxygen. It was on the hot and cramped plane that Sara fainted twice more, eventually drawing the attention of soldiers who took her away in an ambulance and gave her an IV. Her father had tried holding her up to a small vent in the plane, but that was still not enough to prevent Frotan from passing out.  Her mother, little brother, and three aunts fainted as well during their time in Qatar.  
Once everyone was medically secure and loaded back on the plane, it headed to Germany, where the Frotans were planning to await the arrival of more family. However, the waning health of her 6-year-old brother convinced her parents to continue all the way to the United States. 
Finally, on Aug. 24 Frotan and her family arrived back in the United States.
The plane landed in Dulles airport where Frotan and the other passengers were put through clinical checkups. By this time, Frotan had fainted a total of six times and had seven IVs as a result of not eating or drinking enough. The plane had limited supplies, including MREs (meals ready to eat) and bottles of water which were used up in Qatar. "No one really liked the MREs," Frotan said, "and there weren't enough anyway."
Her family took her to their house in Charlottesville where neighbors and family members welcomed them back home with open arms.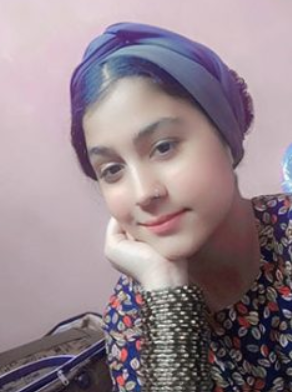 The Frotan's family friend, Judy Crosby, dropped a basket of supplies with milk, water, fruit, backpacks, and more on their front step when they arrived back home. "Seeing that made us so happy because we realized that there were people that didn't see us as terrorists," Frotan said.
Crosby had taught Frotan at Woodbrook Elementary which is where she met her family. "All the staff at Woodbrooks loves the Frotans," said Crosby.
Although Frotan says she "feels lucky to be back at home," she misses her family dearly and is worried about those who remain in Kabul.
"They attacked and we didn't have the chance to kiss our grandfather and grandmother goodbye." 
Frotan's Grandmother is sick and she is worried that this was the last time she would ever see her. 
The family has managed to stay in contact with her grandparents, using precautions to try and ensure her relatives are not caught contacting Americans.
The Taliban has implemented many restrictions, making it difficult to safely use the phone or internet for fear of being caught and punished. Wi-Fi and electricity have also been scarcer since the Taliban took over, contributing to communication struggles.
There is always the possibility that the Taliban members could be in her grandmother's house when Frotan's family calls. "They will enter your house and be like, 'Make me some food; I'm hungry,'" Frotan said. If they heard a phone call while in the house, her grandparents could be held hostage or killed. 
"
They attacked and we didn't have the chance to kiss our grandfather and grandmother goodbye."
— Sara Frotan
For this reason, they use a code before calling: Frotan's mother will text a period, meaning "Can I call?" No response means the Taliban are in the house, a thumbs-up means it's safe.
This code has proved to be vital,  given that her family has received no responses a few times. When contacting her grandparents afterward, they learned that Taliban members had been inside the house. 
"One time [August of 2020] my grandfather and uncle were beaten because the Taliban was looking for my father," Frotan said. "We have to be so, so careful because any connections to Americans are dangerous. Our biggest worry is family members being killed because of us." 
Just six days after the Frotans arrived safely back in Charlottesville, U.S. troops withdrew from Afghanistan. The Afghan army collapsed in just 11 days without U.S. support, enabling the Taliban to become the official government of Afghanistan.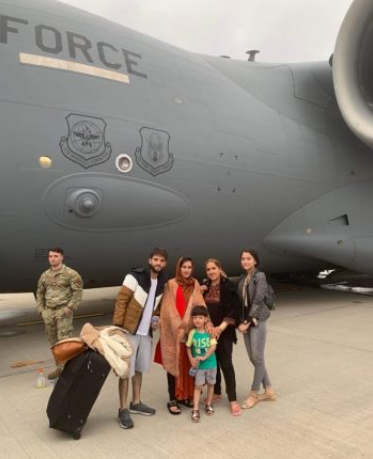 "It is kind of understandable that the troops retreated," Frotan said, "but the president [Biden] needs to know that now the people of Afghanistan are left to fight a war they cannot win."
"When the [U.S.] soldiers were there, they felt like angels in our country. Now we must watch the Taliban barge into their houses, steal everything, and kill children and family for no good reason."
"Right now this [being safe in the United States] is a dream," Frotan said again, "but we cannot forget about people still struggling in Afghanistan."
———————————————————————————————————-
Want to help other Afghan families like Sara's? The Key Club is sponsoring a drive from Nov. 8-23 to collect items to donate to Afghan Refugee families at AHS. Toiletries and baby supplies are needed, as well as clothing for all ages. Donations can go in the blue laundry basket in the front office.
If you have any questions about the drive you can email Eavan Driscoll.