Power and Grace
Girls cross country reflects on a successful season
At the end of a race, with burning lungs and legs leaden with exhaustion, emotions and adrenaline run high. Runners celebrate or mourn their placements, but they're not in it alone. 
Running is often perceived as an individual sport, however the girls cross country team attributes its consistent success to the tight-knit pack they formed over the past season. 
In a literal sense, this year's team easily found a natural rhythm, being able to "pack up:" running close together in races to optimize the team score.
On another level, the girls don't just compete for individual places — they do it for the team. "The comradery is really there," senior captain Hanna Guyton said.
Starting in July, the team engaged in frequent spirit and team building activities to build a foundation of trust. "It's really important to establish that bond beforehand," Guyton said. During a four-day summer camp at Graves Mountain Lodge, the boys and girls teams competed in "Olympic-type" activities.
Aside from camp, the girls also organized a team breakfast and sleepover where they baked and watched movies together. On spirit days, they gave each other gifts like snacks and socks to foster enthusiasm for upcoming races. Before States, the varsity team — and some coaches — wore capes and custom donut shorts from ChicknLegs to warm up. 
"
You work hard together, you train hard together, you're gonna race hard together
— senior Hanna Guyton
All this has contributed to a climate of support and dedication, without power imbalances or animosity between varsity and JV. "The top girl is friends with the slowest girl," coach Cathy Coffman said. "This year, I noticed that almost everybody was talking or giggling together during practices — there's a lot of joy and silliness." 
While they have fun during practices, they maintain a seriousness of purpose. "You work hard together, you train hard together, you're gonna race hard together," Guyton said.
To help with the physical and mental toll of prepping for meets, the girls use a multitude of mantras to stay motivated during workouts. "We call it: 'We have to eat our veggies before dessert,'" junior captain Maddie Gypson said. "So the workout is our veggies, and then we get to eat our dessert at the race."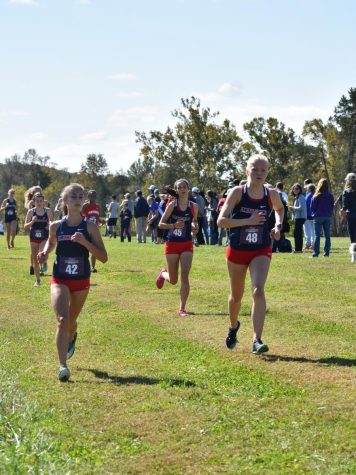 Even though workouts can be difficult, they try to "take it every day, one step at a time," Gypson said. "You don't realize how much that one day [of practice] is gonna matter in the big picture. And it might not matter at all, but it's all you can do, really, to get good."
"I try to live my life with this idea of 'power and grace,'" Guyton said. This is the girls' main mantra from Coffman. 
"It never gets old," Coffman said, "seeing all the girls' hard work pay off." 
One time the team's dedication was rewarded was the Milestat.com XC Invitational. "It was just a phenomenal day. Tons of people had breakout races. Once we all crossed the finish line, we started hugging each other — some of us were crying because of how excited we were that we had PRs and did so well in the race. That was a really sweet moment," Guyton said.
The team preserved a six-year streak as Region champions, going on to place third at the VHSL Class 5 State Meet.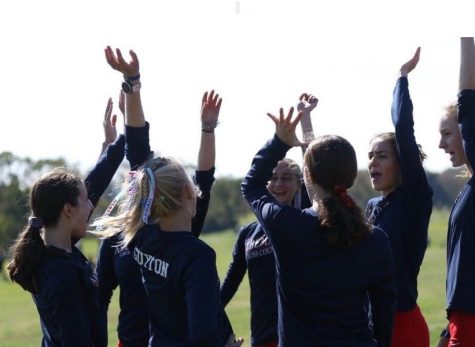 It's easy to assume that the best moments come from success at big meets, but the team's personal highlights are from day-to-day joy and victories.
"All the little moments add up," Coffman said. Despite the pressure of being state contenders, the team kept morale up with "a kind of levity, lightness and joy" which was characteristic of everyday practices. 
One moment that encapsulated the season was a rainy-day workout on Nov. 15. Even with a dark sky and 30-degree weather, it turned out to be the best workout of the season. 
"I think that's really a testament to the hard work and effort that we put in because even in the worst conditions, we're still out there smiling, working hard, and having a good time," Guyton said. "It's a combination of the great group of girls we have and the amazing coaches that are positive and encouraging and taught us how to become stronger and tougher girls." 
Additional reporting by Eric Theobald and Eavan Driscoll.
Leave a Comment
About the Contributor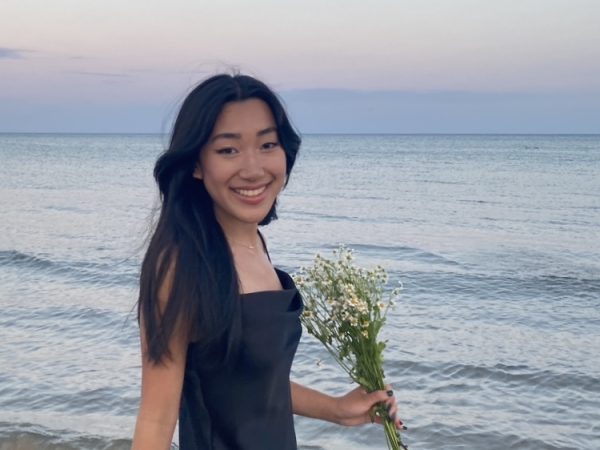 Anna Zheng, Editor in Chief
Senior Anna Zheng (she/her) is in her fourth year of journalism. Previously, she served as Social Media Editor for two years and spent a summer at the...