Making a Joyful Noise
Music production teacher Trevor Przyuski releases his all-original Christmas album, Snow Globe
While others traveled for the summer, music, and video production teacher Trevor Przyuski took the time to construct the foundations for a Christmas album, Snow Globe.
Back in June, Przyuski joked with a friend about making his next album an "atheist alien abduction" rock opera. Once the words left his mouth his friend replied: "Now you have to do it because you can't just say something like that and not do it."
This led Przyuski to start writing songs for the album. "It started really with just one song, trying to play with this idea of aliens and Christmas and all of that," Przyuski said. "The story started to tell itself. Before I knew it, I had 13 songs that were sort of thematically connected around this idea."
The album tells the story of a person who has, "lost his faith in God, in people and, most importantly, in himself," Przyuski said. "He's a guy who's kind of looking for a reason to care about Christmas or about anything. He gets abducted by these aliens, who are trying to decide whether this life on Earth is really worth saving."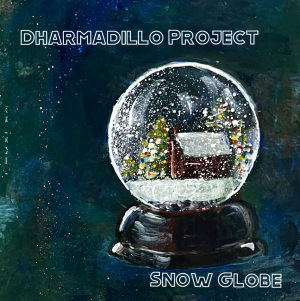 By answering the alien's questions, the protagonist attempts to explain what, "Christmas used to mean and why it doesn't mean as much anymore." In the telling of his story, he finds some sort of redemption and a reason to keep carrying on.

Christmas is a holiday that is very dear to Przyuski– he had a tradition of writing a Christmas song each year when his children were young. As they started growing in their respective musical talents, they joined in. Despite busy schedules, Przyuski and his kids never quit making music together. Both of his daughters are featured on Snow Globe.

While credited to the Dharmadillo Project, the album is mostly Przyuski with other musicians sitting in on various tracks. Regular players include Tony LaRocco from local band Pale Blue Dot, Minh Martin from We Are Star Children, former physics teacher Tony Borash and social-emotional learning coach Summer Puopolo.

Przyuski takes the role of an engineer mastering songs, playing guitar as well as recording vocals. His influences range from Pink Floyd to Frightened Rabbit, mostly inspired by the '70s & '80s rock scene.

Songs like "Does Santa Claus Really Believe In You" show a more cynical view of Christmas. The song is apprehensive about the fact people celebrate Christmas, yet Christmas' very myths may not be true.

Dharmadillo Project

The songs showcase a variety of sounds. "Tell Your Own Story" is more laid back and vibrant while "Doors" is a more folk-driven cut.

"I wanted to flavor the songs with that alien sci-fi spacey feel because most of this is taking place on this alien ship where they're interrogating this guy about Christmas," he said. "So, those kinds of ambient weird electronic intros and outros really just sort of create that space and that effect of something sci-fi."

Snow Globe also includes samples from a wide range of sources: everything from old radio plays of A Christmas Carol, the film It's a Wonderful Life, and, "these old 1970s Christmas variety shows that I remember from when I was a kid, like the Dean Martin Christmas Hour and Perry Como Christmas Special."

Przyuski used the samples in an effort to further the storytelling aspect of the album.  "It occurred to me early on that part of what this album is about is the importance of the stories that we tell ourselves and those that we passed down from generation to generation."

"

Stories help us find humanity within ourselves and reasons to care for one other.

Finding truths through telling stories is the main theme of the album; fitting since Przyuski teaches film making and also taught English.

"All the stories that we tell are really important in finding our own truths and our own reasons to celebrate life," he said. "People celebrate different religious traditions around that same time, whether it's Hanukkah or Christmas. And all of those stories are so equally important and they're and they all sort of overlap."

He appreciates the warm feelings that surround the winter season during holidays such as Christmas "Our time is limited on this blue planet. We can spend it valuing, loving, and caring for one another or we can spend it hating and killing each other. The choice is ours," Przyuski said. "Stories help us find humanity within ourselves and reasons to care for one other."

Snow Globe by The Dharmadillo Project is available to listen to on Spotify.