Why Not Us?
Q&A with the captains: boys soccer season preview
2023 Boys Soccer captains senior midfielder Luke McClung [14], senior striker Maycol Echeverria [7] and junior midfielder Jack Dofflemyer [13] discuss this year's team and predictions for the season.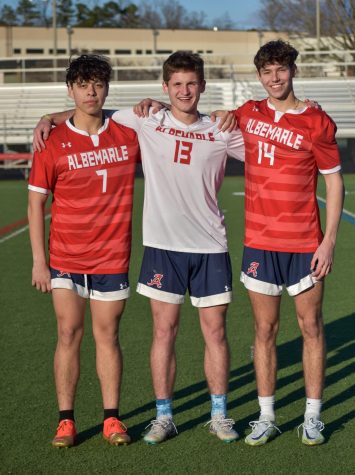 How would you describe this year's team in one word?
Echeverria: Disciplined.
McClung: Close.
Dofflemyer: Rambunctious. 
What makes a good team?
McClung: Communication. I think being able to communicate from all lines, back line to the top line is very important. It helps a lot with performance. Chemistry and communication are both up right now on our team which gives us hope for a united group of guys. 
Dofflemyer: Absolutely. I think we have a really tight-knit group of boys this year.
Echeverria: The strongest team is one built on good individual relationships between players. That is what builds chemistry and makes teammates willing to fight for each other. Our team this year has more depth than we have had in the past because [of the] individual relationships we have built.
How did the team do last year?
Dofflemyer: We fared pretty well in the district, winning it by a narrow margin. We didn't go as far as we'd liked to in the state tournament, but we're working to do better this year.
McClung: It was a rough start. We didn't play as well early on in the season as we did when we ended the season. We are trying to avoid that [warm-up period] this year.
Who are some of your biggest competitors in the district?
Dofflemyer: Our biggest competitors are always Western, CHS, Monticello, and Fluvanna. Western, however, definitely stands out as our biggest rival. We always anticipate playing them.
McClung: They have always been our rivals; it's basically tradition. WAHS is great competition because they put up a fight. Games in the past have been a back-and-forth battle.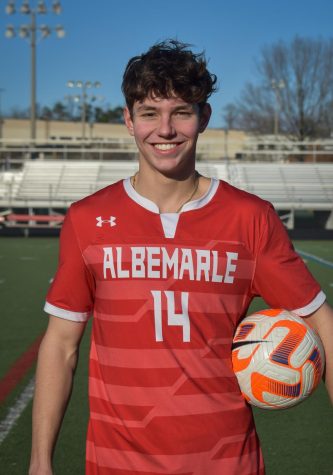 How are you preparing to compete against Western this year? 
Dofflemyer: We have a lot of young talent on the team this year that we are working to mold and develop as the season progresses. We will play them later on in the season which gives us time to prepare in practice. We play them twice, so we are looking to get at least one win out of that.
McClung: We have a strong back line but Western is really good and can be hard to stop. I think that as long as our back line stays strong and slows their offense, we should be good. 
Do you have a team motto?
All: Why not us?
McClung: Historically, Albemarle soccer, especially in the recent past, hasn't performed well in the playoffs or even the regular season. But, going into each new season we remember that we have a chance and that it's up to us to make that happen.
In your opinion, what makes a good soccer player?
McClung: Someone who's aggressive and smart on the ball. Soccer IQ is a big asset. 
Echeverria: [Soccer] IQ makes a huge difference on the field, especially when it comes down to those split-second decisions. 
McClung: Also, being technically sound is good. You don't want someone who doesn't know what they're doing with the ball in the middle of an important game. A good player needs to have complete control of the ball so the rest of the team knows they can rely on them.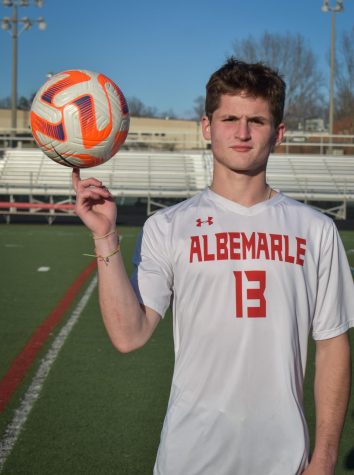 What makes a good teammate? 
Dofflemyer: I think as captains we can all agree that you can be a good player, but being a good teammate comes from the things off the ball that you do: supporting your teammates, motivating everyone, and being a team player.
McClung: Leading by example is the most important part. The team is looking to us as captains for how to act.
Are there any team traditions?
McClung: We have a shin guard that belonged to Messi that he threw into the stands. One of our former coaches caught it and now we pass it along to the man of the match every game. 
Echeverria: The man of the match is a player that stood out during the most recent game and is chosen by the previous man of the match. It's just one shin guard but it's something that is part of our team now.
Dofflemyer: Also after every game, no matter win or loss, we jog the field as a team back to thank the fans in the stands for coming out and supporting us.
What's your favorite memory? 
McClung: Definitely beating Western last year. WAHS had beaten us earlier in the season at home, so to give it back to them on their own turf was the best feeling. That game won us the district. 
Echeverria: Agreed, that was a great game. I also remember the Orange game last year because I scored a hat trick.
Dofflemyer: My favorite moment was beating Charlottesville last year at home. I had a pretty costly mistake that gave Charlottesville their first goal. But the team stuck together and ended up getting a two-one win. 
What are some of your predictions for the season?
Dofflemyer: I think Jacob Brazie (forward) is going to have a little breakout season as a freshman.
Echeverria: He [Brazie] has already managed to score three goals in the last three games. Junior Johnathan Biediger (defender) has also been solid in the back, helping us keep multiple clean sheets. I think they will both make a huge difference in our upcoming matches.
McClung: I predict that we will win the district, beating Western out for that top spot. 
Echeverria: State champs. Why not us?
Leave a Comment
About the Contributors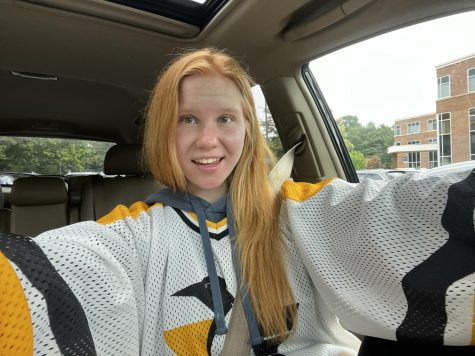 Eavan Driscoll, Editor
Eavan Driscoll is a senior at Albemarle High School in Virginia and will be attending Virginia Tech in the fall. She is a captain of the field hockey team...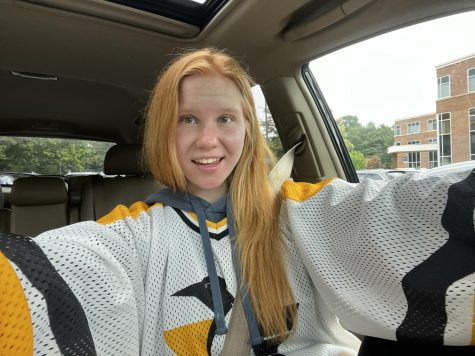 Eavan Driscoll., Editor
Eavan Driscoll is a senior at Albemarle High School in Virginia and will be attending Virginia Tech in the fall. She is a captain of the field hockey team...