Black History Month Gears Up with New Events and Contests
Students and teachers will be able to participate in Black History celebrations during the entire month of February this year. History teacher Ben Allen and a committee of teachers established a schedule of activities, events and competitions to engage students in the history of African-Americans.
"We sought out to think of activities that represented our entire student body, not just African-American students," Allen said. "We basically looked at it as, 'How can we provide activities that everyone can participate in and then understand overall that black history is really everyone's history?'"
The schedule segments the month of February into four themes: "Set the Stage," "Celebrate the Past," "Discuss the Present" and "Look to the Future." Each segment is a week long and holds different events to match that week's theme.
The first week, "Set the Stage," takes place from February 1 through February 5. This week holds a school-wide door decorating contest. The decorations should encompass the theme "Excellence: Past, Present and Future," depicting important contributions of African-Americans in the past, present and future while also maintaining the understanding that Black History is everyone's history.
Judging will focus on creativity, originality and adherence to the theme. Door decorations must be completed by Friday, Feb. 5 as judging will take place B block that day. The winning door will be announced Monday, Feb. 8.
"Celebrate the Past," the theme of the second week, contains two performances from local dance groups. The first group, set to perform Feb. 10, is UVa's Hip Hop and R&B-based a capella group, ReMiX, which will perform in the Media Center during CHAT on Wednesday.The following day, the West African Dance Company Chihamba will educate students on African culture through song and dance in the Media Center during CHAT.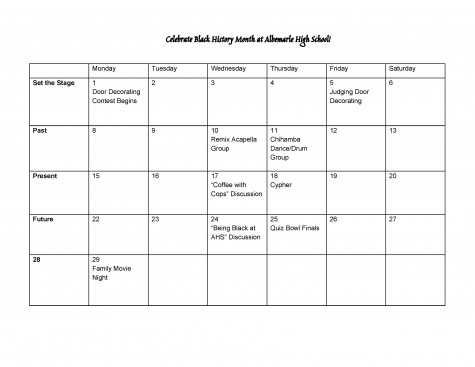 The next events will focus on the present day issues surrounding African-Americans. As well-known events such as in Ferguson, MO and Chicago, altercations with police are pressing issues, Allen and the committee of teachers set up  "Coffee with Cops," in which students may have a thoughtful discussion with area police officers about current issues regarding race and police relationships.
The discussion will be a good way for students to voice their concerns to police as well as for local cops to explain their expectations on the job, according to Allen. It will hopefully show students that we live in a very protective community and that students have nothing to worry about.
Then, with the help of students from the A3 House and other student rappers, the Media Center will host a cypher, a freestyle rap session based around a certain topic, on Thursday Feb. 18.
Finally, the "Looking to the Future" week offers more communication amongst students during CHAT on Feb. 24 in a "Being Black at AHS" discussion.
"At first I expect it to be just a cultural celebration, but then also get on to the point of being able to have some discussions about events that affect African-American men today," Allen said. "[I expect] people to be able to participate across the school– both teachers, staff and students in some of these discussions showing that we, as a school, are aware of [these events], we're discussing them, and taking steps to solve them."
Students may submit their artwork, poetry, creative writing, music and dance for a chance to win a $250 academic scholarship. Entries should focus on the theme of Excellence Past, Present, Future of African American Historical/Cultural/Social Expression. Click here for more information about the scholarship.
Then, on Feb. 25, the Black History Month Quiz Bowl finale will take place in the media center as teams of five students or staff will test their knowledge of black history for a chance to win a prize for their class. Click here to sign up your team for the Quiz Bowl.
The Revolution will provide continual updates throughout the month, such as Quiz Bowl study guides, contest winners, scholarship recipients and video of some of the performances.