Grab Your Cowboy Hats and Boot Spurs: The Magnificent Seven Will Turn You Western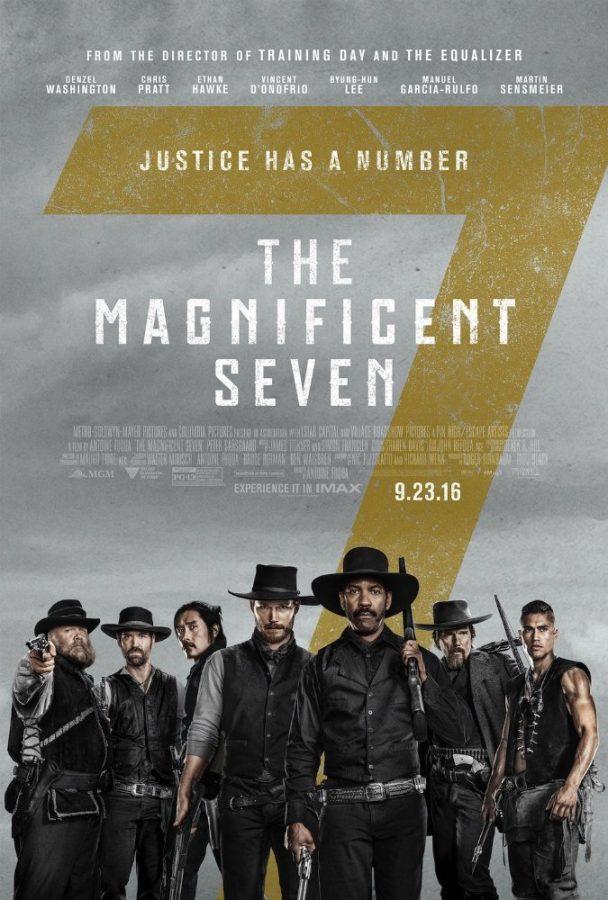 ★★★★☆
The Magnificent Seven, which you might know as that new cowboy movie Chris Pratt is in, pulls off the 21st-century spin on the classic 60s western. (Disclaimer: I have not yet seen the original.)
In this movie, Chisolm (Denzel Washington) leads a gang of outlaws and outliers to rescue a small town from the tyrannical Bartholomew Bogue (Peter Sarsgaard).
Of course, avoiding cliches is nearly impossible when recreating a western from the 60's, so I'm not exactly disappointed by the mysterious Native American trope or the cheesy saloon scene that stand out so starkly from the more creative parts of the movie.
The writing succeeds in the character department where Suicide Squad failed. I know that it's impossible to completely develop a whole cast of unique characters in a two-hour timeslot, but The Magnificent Seven was able to do just enough so that I was invested in each and every one of them. I feared and cheered for the entire crew as they pulled off the near-impossible rescue mission.
The characters were also surprisingly diverse for a cowboy movie. Billy (Lee Byung-hun) and Emma Cullen (Haley Bennet) are talented sharpshooters and additions to the crew, despite them contrasting with your typical western cowboy.
The story itself is told artfully with waves of suspense, exceptional acting and creative shots of the Great American Desert, created with convincing special effects.
While the music was never noteworthy, the acting, writing, and camera shots helped create awfully tense pauses before characters broke into yet another epic shootout.
The fight scenes were simply fantastic. From cliche saloons to all-out war zones, every gun scene (and there were plenty of gun scenes) had me on the edge of my seat, ears ringing from the crashing sound effects.
Chris Pratt naturally fits into the comedic role of Josh Faraday, which closely resembles his past roles as Starlord from Guardians of the Galaxy and Owen from Jurassic World. Haley Bennet powerfully portrays Emma Cullen, one of the best written female characters I've ever seen; she's completely independent as a character and just as important and interesting as her male associates.
The best thing about this movie, though, is how the director, Antoine Fuqua, and writers embraced the western elements of the story instead of erasing them for the sake of originality. The movie knows it's a cowboy movie and owns it without turning into a complete clone of every other western film.
Overall, it was definitely worth the ticket money and was refreshing to see after watching Suicide Squad and Sausage Party dominate at the box offices. I'd highly recommend The Magnificent Seven as a quality source of entertainment.