Counseling Department Hosts College Fair for Seniors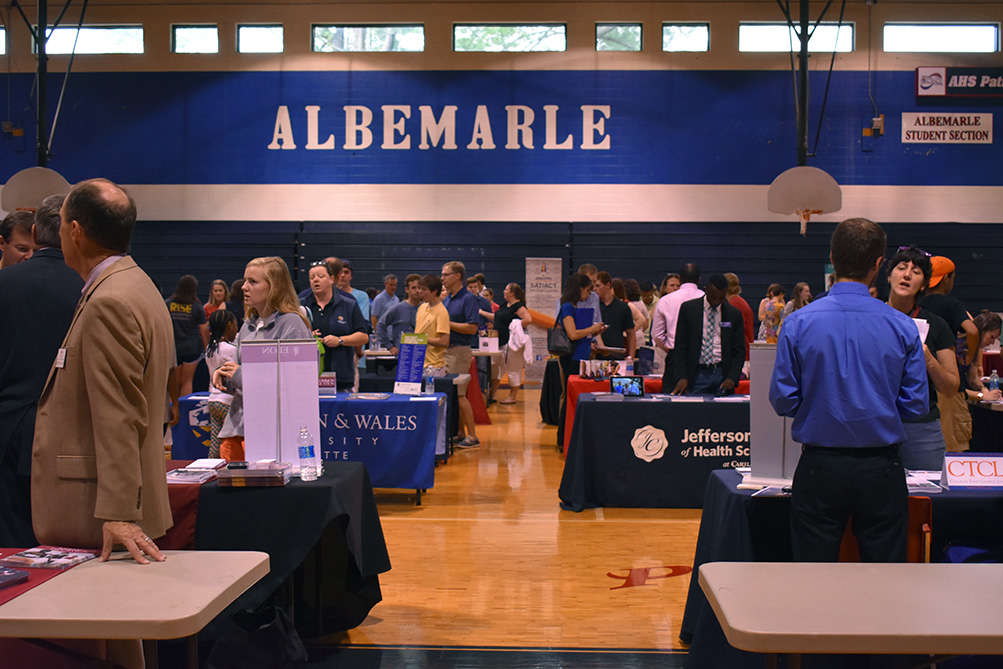 This past Sunday, Sept. 17, the Albemarle Counseling Department hosted a College Planning Night for students and families to learn more about their colleges of choice.
The evening opened up with a Q&A panel featuring deans of admission from William and Mary, James Madison, Penn State, Longwood, and Lynchburg College.
The auditorium was decently packed with parents and seniors taking rushed notes as each admissions specialist answered questions concerning college essays, financial aid, AP vs. Dual Enrollment, and other topics submitted by students.
Following that panel was a College Fair with over 80 colleges from around the country answering questions and handing out loot to interested families.
Most booths had student publications and informational pamphlets, along with free trinkets like lanyards or cup-holders.
Within minutes, students and parents had swarmed the booths of popular colleges like James Madison University or the University of Virginia to speak with someone from the admissions staff.
"I think it's good to put a face to a name, with all the publications students can pick up," Dean of Admissions at Hampden-Sydney College Berkeley Leonard said. "They can always ask questions and get to know the person who is, most of the time, going to be reading their application."
The booths were flooded with students eagerly asking questions and filling out forms for their preferred colleges. Some attendees looked to be as young as middle school or elementary school aged.
"We always get great students out of the Charlottesville area," Leonard said. "Charlottesville's always been good to us."
While families had the option to visit booths at the college fair, sessions were also being hosted around Albemarle with more specific topics, like using Naviance and College Disability Services.
For more information about the college application process, visit the guidance office or go to the counseling department's website off of Albemarle's homepage.