The Best and Worst Christmas Hallmark Movies
Hallmark Movies. There are the good and the bad. Well actually, most of them are great, but occasionally you will watch one that makes you rethink watching any other movies. I am going to let you know which movies are a must watch and which are a "don't even click on the summary" kind of movies.
A Bride for Christmas– Rating 8/10. Would I recommend it to others? Heck yes!
This is one of the best Hallmark Christmas movies out there. It is the story of a women, Jessie,  who has gotten engaged a few times but each time she chickens out and either doesn't show up for her wedding or runs out out the last minute. After her latest break-up (or break-down, whichever way you want to look at it) she visits an art exhibit where she meets the ever charming Aiden. Aiden has bet his friends that he will get Jessie to marry him by Christmas. What ensues is a comedy about Aiden trying to get Jessie to marry him so he can win his bet. The movie is a home run for anyone with a romantic side.
Charming Christmas– Rating 2/10. Would I recommend it to others? Nope.
To be completely honest I don't even know what this movie was about. All I got out of it was that is was about a woman, named Meredith (I had to look up here name), who dislikes Christmas but is forced to be the Mrs. Clause at the local department store her family owns. As you can probably already tell, Meredith is not happy to have to dress up as Santa's wife and sulks around the store for quite a long time while constantly talking back to the man playing Santa. Eventually Meredith befriends the man playing Santa and the rest of the movie hints at a romance between the two. This movie was a very slow moving movie and did not feature any humor whatsoever. I recommend you pick a different movie before viewing this.
The Nine Lives of Christmas– Rating 8/10. Would I recommend it to others? A cat's meow yes.
The movie combines two things a lot of people love; firefighters and cats. The firefighter is played by none other than Brandon Routh, who was the former Superman. The story revolves around a current pre-vet student, Marilee, who meets Routh's character, Zachary and they instantly form a connection. When Marilee gets kicked out of her apartment for keeping her cat there Zachary offers to let her stay in his huge victorian house while she loo ks for a new place to live. Through the spirit of Christmas and working together to get Zachary's house fixed up they fall in love. Everybody who has the Hallmark channel on their television should definitely check this program out.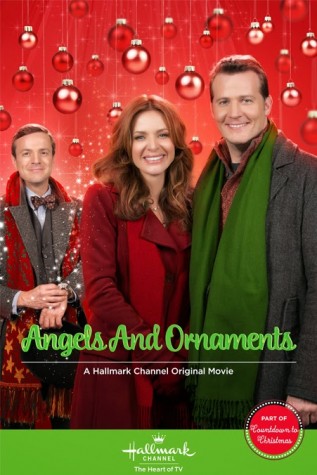 Angels and Ornaments- Rating: Can you rate a movie you never finished? Would I recommend it? Definitely not, if this is the only thing on than you better consider calling Hallmarks 1-800 number and complaining directly to them.
This movie is the absolute most boring movie on television to date. Maybe I didn't give it enough time, but between this mopey woman who plays sad piano music every minute of the movie to the sad look plastered on her face, I could only stand to watch it for about fifteen minutes.
Hitched for the Holidays– Rating: 9/10. Would I recommend it? Yes, it will provide you with many laughs.
This movie is Hallmark comedy gold. It is about a man and woman who pretend to be dating each other so their family will think they are not alone for the holidays. The only thing is that the woman celebrates Hannukah while the man goes full out for Christmas. The movie is full of classic one liners as the "couple" try to figure out the celebrations of the other.