Ten things to fill your time over winter break-your guide to holiday fun
Baking is one of the many things you could do over break.
With Winter Break falling at an odd time this year, students
have an unusual amount of time after Christmas and New Year's before school starts back up again. So you're probably wondering what to do with all the free time. Here are a few
suggestions, conveniently placed in order from best to worst:
1. Sleep
As you've read from the last issue of "The Revolution", no one ever
seems to get enough sleep with all the school work they've been drowning in.
Now, hopefully, you won't have any pesky early morning obligations and will be far away from the slightly out of tune bells.  It is the perfect time to catch up on beauty sleep and then some.
2. Hang out with friends
School, again, is the hindrance to your happiness. Of course, your
family obligations come first, but parents have to go back to work some
time. If your friends live close, or you can drive then you
can easily catch up with your friends.
3. New Year's Eve
There are many options for New Year's Eve: parties, First Night,
watching the ball drop, making all the money you could imagine by
babysitting or, if you're an introvert, spending the night alone.
Parties pretty much explain themselves; go to a party, throw a party,
crash a party, just enjoy yourself.
First Night is an all night even downtown
featuring music, comedy shows, magicians, their own ball drop and much
more, there are activities for people of all ages.
Now babysitting seems like one of the last things you'd want to do on
New Year's Eve, but think of all the money you could make. Parents want
to get out of the house. They'd kill for a babysitter who's willing to stay up
until they come home, sacrificing their own night. "How sad," they'd say as
they pay triple the usual amount. Wrong! You just made more money than
you've seen in your teenage life.
4. Watch movies
With it being holiday season, there are plenty of movies to watch on television in the comfort of your own house. There are the the classic Christmas movies: "The Muppet Christmas Carol," "The Santa Clause," "The Nightmare Before Christmas" and "Home Alone." However, this is high school, you should be watching more mature movies: "Elf," "A Christmas Story" and "Mixed Nuts" are some good movies for an adult audience.
But, if you're willing to venture outside, the options expand. You could take a trip to the new theatres at Stonefield for a cheaper matinee price, or you could go to the old Carmike theater for not as new $1.50 movies.
5. Catch up on tv shows
If movies aren't your thing, then you could actually watch all the shows your have recorded on your DVR. If you're committed, you could even start watching a new series and then get sucked in until you eventually end up searching Netflix, YouTube, Hulu or any website to watch all the seasons.
Some good new and old shows to keep an eye on include, "The Big Bang Theory," "The Walking Dead" and "Arrow." If you're looking for something a little softer and with less intelligent jokes you could try "New Girl," Modern Family" or  "The Mindy Project".
6. Go shopping
During holiday season there are tons of sales going on. You can find deals on pretty much anything you want, especially after Christmas when stores try to liquidate their winter items. If you're sick of the stores around town, you could make the hike to Shortpump in Richmond for  a different area to shop.
7. Bake
If you're talented and wish to make your own food, you could bake. Hopefully it will be cold, so a warm treat might be nice. Something about the holidays makes people want to just stuff their face with basically any dessert they can get their already chocolate-covered hands on. You could satisfy your own, your family's or your friend's baked goods needs, and maybe even have fun in doing so.
8. If there is snow…
Some people predict that this winter will be nice and snowy, and though others say the opposite, you should ignore them for now. If it snows, there are many things to do: sledding, snow tubing, skiing, snowboarding, snowball fighting, making a snow fort or if you have the time and don't care about getting frostbite, you could dig snow tunnels to your friend's houses.
There aren't a lot of big hills to go skiing or snowboarding on, but sledding and snow tubing can be done on practically any hill with snow on it. Having a snowball fight shouldn't need any explanation, if it does then your childhood must have been very dull. Building snow forts consists of taking snow and building it into a fort position, however, digging snow tunnels requires a little more effort, and maybe even a shovel.
There's a point where it is too cold to be outside, so if it ever reaches that point, you could start a fire (in the fireplace) or a bonfire (preferably outdoors) and stay inside while cozying up with a warm blanket and some delicious hot chocolate or maybe even a delicious treat you made.
9. If there is no snow…
Unfortunately, there is the possibility that no snow will fall this Winter because Virginia weather is sporadic. If you are itching to have a snow filled break, you'll have to improvise. Wintergreen and Massanutten are resorts up in the mountains that always have snow to play in. Massanutten also has an indoor water park if you don't want to face the cold.
10. Homework
As you can see, homework is the last on list of things to do. Teachers often assign homework over winter break and it could never hurt to commit a day to doing your homework.
It's when teachers decide to assign projects that time management might be an issue. You may be compelled to wait until the very last day of break at 11p.m. to start this project, but cramming is never fun, and the product is usually less than satisfactory. The best thing to do is to start your homework or projects as soon as you can, you'll save yourself much stress.
Whether or not you choose to take the advice, the most important thing to do over break is to enjoy the time off, and try to forget about the upcoming exams that I am not reminding you of right now.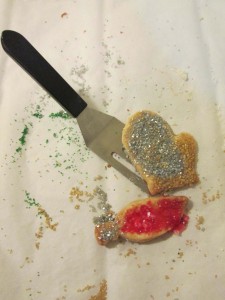 Baking is one of the many things you could do over break.